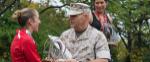 ---
Are you wondering what it takes to become an Armed Forces Sports champion? We sat down with Capt Christine Taranto, winner of the Women's Armed Forces Marathon Championship and second place finisher at the 40th Marine Corps Marathon, to find out how she maintains her mental and physical readiness, both on the pavement and in uniform.
How did you get involved in All-Marine sports?
I ran the Marine Corps Marathon in 2012 and ran a 3:13:51. It was my first MCM and second marathon ever and my goal was just to beat my previous marathon time from 2007. I was driving home (to beat Hurricane Sandy) when Justine Whipple, a personal friend and fellow Marine, called me. She asked where I was because I had placed second for active duty female Marines. I was stunned. Justine at the time was also the acting Semper Fit Sports Operations Officer and asked if I was interested in joining the All Marine Running Team. The rest is history!
What have you gained from the All-Marine Sports experience?
I have grown so much personally and professionally from my involvement in All Marine Sports. Personally, I get to share my passion of running and triathlon with a group of men and women from all ranks and all occupational specialties across the Marine Corps. The bonds you form with fellow Marines only grows exponentially when you share the same pain, suffering, and moments of triumph and glory through sports. My teammates are some of my closest friends. Professionally, I get to appreciate and respect all ranks of the Marine Corps. The personal and professional guidance and mentorship that is shared by teammates whom span the ranks from Lieutenant Colonel to Corporal is valuable in its own right.
What has been the highlight of your All-Marine sports experience?
The 2015 Marine Corps Marathon has certainly been the highlight thus far. I placed second overall in the marathon and ran a personal best of 2:53:29. So many people were cheering "Go Marine" or yelling "Ooo-rah" during the race and it was so motivational. Then to stand on the podium and shake General Neller's hand, the pride inside of me as a Marine is indescribable. As if that was not enough, the Marine women's team won the Armed Forces Marathon Championships and the Men's team won the Warriors Across the Sea Challenge. To share the podium with my teammates and see all the hard work pay off is just one of the many reasons of why I love to run.
What is your training schedule like?
My training schedule varies depending on what race I'm training for. The All-Marine team will compete in several races throughout the year at varying distances. We have a fantastic coach, Joe Puleo, who writes our training schedules to ensure we are maximizing our potential for success. Joe is also a gift because he has a genuine understanding that we are Marines first and runners second and our schedule does not always allow for strict training. He truly helps us find balance in our lives. Since I started working with him in 2012, he has been the critical enabler to improving my running.
How do you maintain your fitness when you're not preparing for a race?
I am also a member of the Marine Corps Triathlon Team, so I have the unique quality of being able to swim and bike to maintain my fitness levels without running. I'm also a strong proponent of strength training to keep my body injury free.
How do you keep yourself mentally focused for races?

I spend time with my teammates to help me focus. We are spread from Quantico to Okinawa, so most of the time I don't get to see my team unless we are racing. It can be difficult to leave behind work and the things that need to be accomplished sometimes, but getting to spend time with my teammates is really what helps me to focus on the race at hand. They're my running family and the attitude when we are together is always "we got this".
As a single Marine, do you feel being a part of the All-Marine team helps you meet new people or adjust more quickly when you move to a new installation?
I don't feel being part of the All-Marine team helps me meet new people, as much as being a community athlete helps me meet new people. Whether it's being part of an athletic club, participating in community events, or simply showing up at the pool and seeing the same group of strangers, all these people are now my friends. Regardless of how fast or slow you are, there are people with common fitness interests.
Being a single Marine and an athlete, most people look for me in the gym. I think that's because Marine Corps Community Services (MCCS) devotes a lot of time to ensuring their fitness facilities are top of the line. I was previously stationed at MCAS New River and in my time there MCCS opened a new gym, climbing wall, indoor pool, and HITT center. Marines are always looking to improve their fitness levels and I think MCCS caters to all types by ensuring diversity of its programs.
Do you have you any tips for Marines who would like to try out for an All-Marine sports team?
Pursue your passions. I know that I always felt like I was too busy being a Marine or even not good enough to be on an All-Marine Sports team. What I found is that once I started pursuing my passion of running again, I was actually more focused at work and executed better time management. I have so much pride in being a United States Marine, but to have the ability to represent and wear the eagle, globe, and anchor while I pursue my passions is something special. All-Marine Sports should not be wasted. I am truly thankful to Semper Fit and Marine and Family Programs Division for keeping these programs alive and well and encourage all Marines to pursue their passions.
Do you have what it takes to run in the next Marine Corps Marathon? Click here to find out how you can get involved in intramural, varsity and All-Marine sports at your installation. Are you looking to get involved in your community at your installation? Contact your local Single Marine Program office to learn more about volunteer and recreational activities available near you.