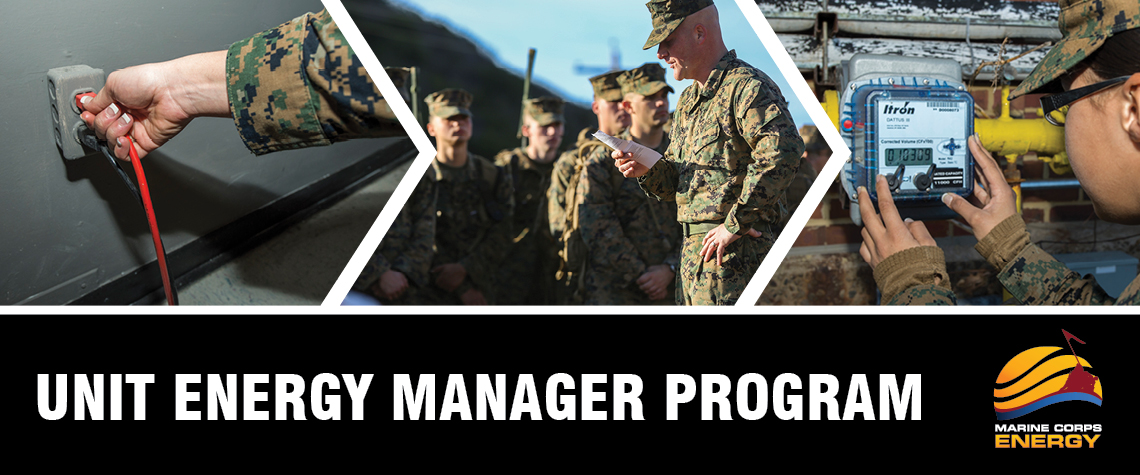 ---
You know that leaky faucet in the bathroom, or the light in your office that's always on? They may seem like minor issues, but over time they waste energy and money – and if those same leaks and malfunctions happened in the field, they would waste essential fuel for Marines. That's one place the Unit Energy Manager (UEM) Program comes in. The UEM Program is the unit-level driving force behind the Energy Ethos – the shared vision that the efficient use of energy resources is a critical component of mission readiness. That means optimizing energy use by improving behaviors and by identifying and reporting instances of energy waste.
Since the UEM Program launched in March 2015, more than 250 Marines have been assigned the duty of UEM and have received training across the Marine Corps. UEM responsibilities range from increasing energy awareness and sharing energy best practices with their fellow Marines, to performing facility energy walkthroughs and analyzing energy consumption data to identify areas to improve.
The program is already showing results. The 2nd Tank Battalion UEMs at Marine Corps Base (MCB) Camp Lejeune identified energy inefficiencies in their units, that when addressed, resulted in more than 17 percent energy savings over the previous year. They analyzed their HQ building's energy data and noticed that it was consuming 40 percent more energy than similar buildings. They called in an expert to do a walkthrough, and determined that a broken HVAC system was causing a lot of energy to be wasted. Fixing this problem, and identifying locations where old, inefficient lights could be replaced with LEDs, has helped them to continue saving energy.
The UEM is a position in Marine Corps units, but their actions can be valuable to everyone. How can you be your own home's UEM?
Look at your energy bills! See how your use changes from month to month, and see if anything seems off. If so, it may be time to call in an expert.
Do your own home energy walkthrough! Take the time to see what kind of lightbulbs you have, and if your windows and doors are closing properly.
Raise awareness! Educate your family, roommates, or friends about how energy is wasted and what habits they can develop to save energy and money.
If you see energy waste or have an idea about how to make your base more energy efficient, reach out to a UEM. For more information on the UEM Program, watch this video.
Now that you know how to reduce your energy bill, start tackling some of your other expenses. The Personal Financial Management Program offers workshops and seminars on more than twenty money management topics. To learn more and find a workshop near you, click here.